EASYWALL Light Weight Panels
EASYWALL™ is a non-load bearing wall panel system designed for use as internal partition walls and external walls. EASYWALL insulated panel is the perfect solution for the construction of energy efficient homes and buildings and can be accommodated to suit any building design, from a standard home to multi-level apartment blocks and commercial buildings. EASYWALL™ is also an ideal solution for the construction of boundary walls, fences and compound walls.
Tested and approved by local and international testing bodies, EASYWALL is priced competitively against traditional masonry construction, provides additional time and cost savings through reduction in manpower and waste removal.
Products
About the System
EASYWALL™ panel is manufactured using light weight concrete with EPS (expandable polystyrene) as core between two fibre cement boards. The standard wall panel thicknesses are 75mm, 100mm, 150mm, 200mm, 250mm and 300mm and produced as single solid wall panel, cavity panel, twin panel and insulated panels.The EASYWALL™ system is durable and engineered for all thermal, fire and acoustic wall applications. Our wall panel system is tested and approved by local and international accredited testing bodies such as Dubai Central laboratory, Thomas Bell Wright, BM Trada, CE, Intertek, ISO, Acoustic Logic and UAE government authorities (Municipality and Civil Defence).
EASYWALL BOUNDARIES
EASYWALL Boundaries is a value-engineered solution catering to the demand of concrete boundary walls for residential complexes, private gardens, farms, commercial facilities, industrial buildings, and others.
Key Advantages of EASYWALL™
No Plaster Required
Robust & Durable
Faster & Easy to Install
Consistent High-Quality Finishing
Light in weight and Easy to Handle
MEP Friendly
Moisture Resistant
Compatible with Different Cladding Material
Recommended for WET Areas
Fire Resistant –Upto 4 Hours
Excellent Thermal Insulation – as low as 0.23 W/m2k
Superior noise reduction / acoustic – as high as 63.5+ STC
Direct + Indirect cost savings
LGreen Building Product/li>
Application
Large- scale residential development projects
Homes
Apartment buildings
Schools
Offices
Hotels
Clinics
Commercial buildings
Retail Facilities
Technical specifications:
Projects Gallery
MV UNIVERSITY AJMAN
MEYDAN STABLE-VILLAS_Meydan, Dubai
MEYDAN STABLE-HORSE CLINIC_Meydan, Dubai
Gulf Tech Shed
GBH SALES OFFICE_Meydan, Dubai
Dubai Creek
BOULEVARD HEIGHTS TOWER_EMAAR BOULEVARD
Al Maryah Central Mall Al Maryah Island
Al Maha Accommodation Gasco
Al Fares International Tents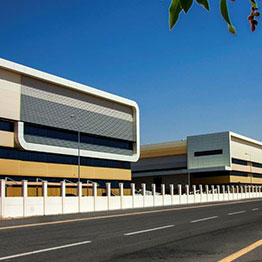 Concealed Wall Panels